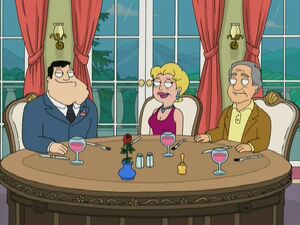 Holland Virginia Taylor (born January 14, 1943) is an American actress of film, stage and television. Her notable television roles include Ruth Dunbar in Bosom Buddies, senator's wife Margaret Powers on Norman Lear's The Powers That Be, Judge Roberta Kittleson in The Practice and Evelyn Harper in Two and a Half Men.
Holland Taylor provided the voice of Cassandra Dawson in "Big Trouble in Little Langley"
Ad blocker interference detected!
Wikia is a free-to-use site that makes money from advertising. We have a modified experience for viewers using ad blockers

Wikia is not accessible if you've made further modifications. Remove the custom ad blocker rule(s) and the page will load as expected.