Hospital
Talk

0
2,683pages on
this wiki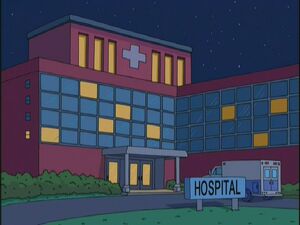 The Hospital is where Stan finds out he is paralyzed in "Stannie Get Your Gun" when Hayley shoots him by accident. Later, he is shot again and recovers.
In "Roger 'n' Me", Francine's brain is detached when Stan runs over her twice. Stan is unable to pay to heal Francine but Roger is able to probe Dr. Gupta to learn how to do the procedure.
Francine applies for a job and is rejected in "Helping Handis". Also, she gives birth to Libby in "Surro-Gate".
Steve finds out he has a curved spine and is given a brace in "Chimdale".
Steve believes he is having a heart attack after eating too many trans-fats in "Live and Let Fry".
Stan and his gang sabotage one of Roger's Mexican henchmen's lawnmower in "Roy Rogers McFreely", sending him to the hospital.
Roger starts having visions following an accident in "Vision: Impossible" and sees Dr. Stack being fired by a baby.