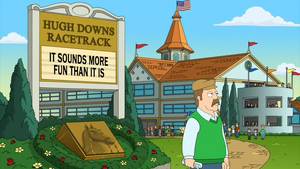 Hugh Downs Racetrack is where Stan goes after discovering a racing form with Well I'll Be a Son of a Bitch circled. Placing a wager in an effort to keep his SUV when gas money becomes tight, he is disappointed when the horse comes in last. When he goes down to confront the jockey, he discovers it is one of Roger's personas.
When the horse's own decides to kill it for insurance money, Roger talks him into buying the horse, noting that he has been keeping it drugged to build up to heavy odds. After Stan buys the horse, a prank by Roger results in Stan being forced to place his mind in the horse's body to race, but he first has to talk to Francine in the stands who is saddened when she feels Stan has put the car before the family. Encouraged by her support, Stan and Roger win the race.
Ad blocker interference detected!
Wikia is a free-to-use site that makes money from advertising. We have a modified experience for viewers using ad blockers

Wikia is not accessible if you've made further modifications. Remove the custom ad blocker rule(s) and the page will load as expected.