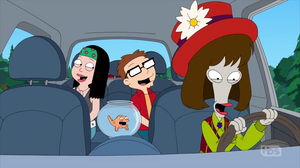 "I'm So Excited" is a song performed by American recording artists The Pointer Sisters.
Roger, Klaus, Hayley and Steve sing along with the Pointer Sisters on the car radio when Roger sets out on a road trip to find the person that performed as "Dylan" in Hayley's "Dream Phone" game in "Anchorfran".
After Roger finds out that Dylan is not the dream he thought he would be, he does something that horrifies the group as he turns on the radio to listen to the Pointer Sisters sing again.
Lyrics
All: I'm so excited and I just can't hide it
Klaus: No, no, no
All: I'm about to lose control and I think I like it...
Reprise
Pointer Sisters: I'm so excited and I just can't hide it
Ad blocker interference detected!
Wikia is a free-to-use site that makes money from advertising. We have a modified experience for viewers using ad blockers

Wikia is not accessible if you've made further modifications. Remove the custom ad blocker rule(s) and the page will load as expected.