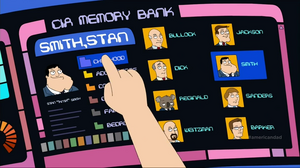 The hologramdeck engineering console includes the image of the head of a Gorn from Star Trek. The control panels in the CIA hologramdeck are modeled after those of the Star Trek: The Next Generation era. When Stan and the others point it out Bullock claims he doesn't know Star Trek, which is an in-joke at Patrick Stewart, known for his acting role as Captain Picard in Star Trek: The Next Generation.
Stan wants the boys to quit playing videos games so he may watch Downton Abbey.
Snot implies that his grandparents were killed in the holocaust.
Jim Breuer is treated to a memorial by American Dad!, although he is still alive at the time of this episode's first broadcast.
The agents with recorded memories appearing in the control room panel include those of Stan, Jackson, Dick and Avery Bullock, as well as those of Reginald Koala, Sanders, Matt Weitzman and Mike Barker.
Stan has the name "Anita" in quote marks on the control panel under the large icon of his memories. The usage would indicate a nickname, but Steve's middle name has already been revealed to be Anita.
Ad blocker interference detected!
Wikia is a free-to-use site that makes money from advertising. We have a modified experience for viewers using ad blockers

Wikia is not accessible if you've made further modifications. Remove the custom ad blocker rule(s) and the page will load as expected.