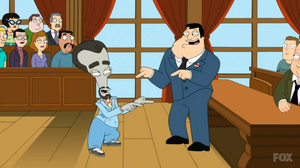 "I Fought the Law" is a much-covered song originally recorded by Sonny Curtis and The Crickets (post Buddy Holly) in 1959. The song was famously covered by Bobby Fuller Four, who recorded a more successful version of the song in 1965 after releasing an earlier, slightly different version on Fuller's own Exeter Record label in 1964. Another famous version was recorded by The Clash in 1979.
After convicting Roger in "The People vs. Martin Sugar", Stan sings I Fought the Law to Roger who joins in even as he realizes he is going to prison.
Lyrics
Stan: Breakin' rocks in the ... hot sun
I Fought the Law and the ... law won
Roger: Stop Stan. You know I love that song.
And I'm not in the mood to do a whole...
Oh screw it
Together: I needed money, 'cause I ... had none
I Fought the Law and the ... law won
I Fought the Law and the ... law won
Ad blocker interference detected!
Wikia is a free-to-use site that makes money from advertising. We have a modified experience for viewers using ad blockers

Wikia is not accessible if you've made further modifications. Remove the custom ad blocker rule(s) and the page will load as expected.