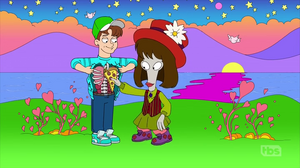 "I Once Wished a Wish" is sung by Roger in "Anchorfran" when he fantasizes about "Dylan", a character in Hayley's "Dream Phone" game.
Lyrics
I once wished a wish
One day I would meet 'cha
My two scoops of kisses
With a heart shaped like pizza
What angel or genie
Led me here to you
My telephone Romeo
My dream come true
My dream come true
Ad blocker interference detected!
Wikia is a free-to-use site that makes money from advertising. We have a modified experience for viewers using ad blockers

Wikia is not accessible if you've made further modifications. Remove the custom ad blocker rule(s) and the page will load as expected.