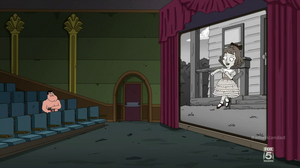 "I Want a Hippopotamus for Christmas" is a Christmas novelty song written by John Rox and performed by Gayla Peevey in 1953. The song peaked at number 24 on Billboard magazine's pop chart the year it was released.
When Stan tunes out Francine's talking in "Stan Goes On the Pill", his imagination takes him to the Theater of the Bored Mind where he watches a film of a little girl singing "I Want a Hippopotamus for Christmas" until he is brought back to reality by Francine.
Lyrics
I want a hippopotamus for Christmas
Only a hippopotamus will do...
Ad blocker interference detected!
Wikia is a free-to-use site that makes money from advertising. We have a modified experience for viewers using ad blockers

Wikia is not accessible if you've made further modifications. Remove the custom ad blocker rule(s) and the page will load as expected.