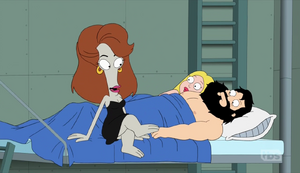 "If My Friends Could See Me Now" is a song number from the 1966 Broadway musical Sweet Charity, and later adopted by Carnival Cruise Line as their anthem, sung by Kathy Lee Gifford in advertisements.
To cheer up the family when they think they are the only survivors after Seoul, South Korea is flooded and they sail away on on a giant liquified natural gas tanker full of animals that Stan believes is a new ark, Roger sings "If My Friends Could See Me Now" in "Daesong Heavy Industries II: Return to Innocence", with the lyrics changed to fit their situation.
Lyrics
If they could see you now and all this fun that you've found
But they surely can't because they've all drowned
Ghostly corpses on the ocean bed
They'd die of jealousy, but they're already dead
But...if...they...could...see you now out on this party boat cruise
Livin' the life and huffing diesel fumes
The only thing that we have to do
Is watch the temperature gauge and make it stay in the blue
Check out this petting zoo, wow!
And this one's all you can eat
Ever have giraffe stew? [strikes giraffe] Pow! You're in for a treat
What a fun ship, Holy Cow!
When you have to poop, make sure you do it over the bow
Climbing walls, there's just so much to do
And free blankets, wait, that's a dead kangaroo
This boat's the cat's meow
Meow!
If your friends could see you now!