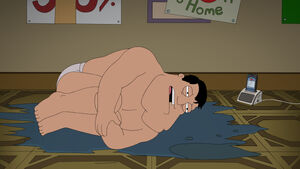 Ira Jeffrey Glass (born March 3, 1959) is an American public radio personality, and host and producer of the radio and television show This American Life.
Ira provides his own voice in "Honey, I'm Homeland" when members of an Occupy group kidnap Stan after he tries to infiltrate their group in "Honey, I'm Homeland". To brainwash him, they play This American Life for him while in captivity in which Ira talks about a dog and his owner, who also happens to be a dog. Stan objects to Ira's pauses between lines, questioning why they are necessary if he already has them written down in front of him. When Stan has been fully brainwashed and is released, he continues to listen to Ira as he touts the benefits of paying for radio.
Ad blocker interference detected!
Wikia is a free-to-use site that makes money from advertising. We have a modified experience for viewers using ad blockers

Wikia is not accessible if you've made further modifications. Remove the custom ad blocker rule(s) and the page will load as expected.