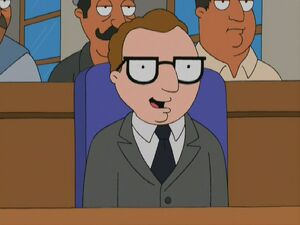 Irv Rosenblatt is the lawyer Stan hires to defend Francine in "Stan of Arabia: Part 2" when she is trial for moral crimes. However, despite Stan's claim of being the best lawyer in Saudi Arabia, he appears to have remarkable streak of losing cases when asked his name.
Irv is voiced by Neal Feinberg.
Ad blocker interference detected!
Wikia is a free-to-use site that makes money from advertising. We have a modified experience for viewers using ad blockers

Wikia is not accessible if you've made further modifications. Remove the custom ad blocker rule(s) and the page will load as expected.