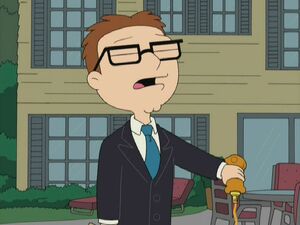 "It's So Hard to Say Goodbye to Yesterday" is an R&B song written by Motown husband-and-wife songwriting team Freddie Perren and Christine Yarian for the 1975 film Cooley High. In the film, the song is performed by Motown artist G.C. Cameron, whose rendition peaked at number 38 on the Billboard R&B singles chart that same year.
Steve sings part of "It's So Hard to Say Goodbye to Yesterday" in a black suit before cremating the queen bee on a burning paper boat on the swimming pool and pours honey on the floor after doing so in "Widowmaker".
Roger's persona of Genevive Vavance presents a tribute to Steve with the song in "News Glance With Genevieve Vavance".
Lyrics
It's so hard to say goodbye to yesterday...
Ad blocker interference detected!
Wikia is a free-to-use site that makes money from advertising. We have a modified experience for viewers using ad blockers

Wikia is not accessible if you've made further modifications. Remove the custom ad blocker rule(s) and the page will load as expected.