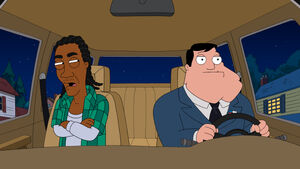 Jerry Brooks (born December 16, 1964), better known by his stage name J.B. Smoove, is an American actor, writer and stand-up comedian, who began his TV career on Russell Simmons Def Comedy Jam in the early '90's. He is also known for his recurring role as Leon on Curb Your Enthusiasm and Trucky in Pootie Tang.
J.B. Smoove provides the voice of Leslie the airport security guard as well as his associate in multiple appearances and Tracey Bryant in "The Worst Stan".
Ad blocker interference detected!
Wikia is a free-to-use site that makes money from advertising. We have a modified experience for viewers using ad blockers

Wikia is not accessible if you've made further modifications. Remove the custom ad blocker rule(s) and the page will load as expected.