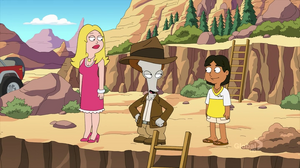 "Jabari" is the assistant to Roger's persona of Twill Ongenbone in "The Adventures of Twill Ongenbone And His Boy Jabari".
Roger tries to impress Francine by setting up an elaborate ruse of an archeological dig site, complete with actors portraying a lost tribe. When the truth comes out, Roger has to tell everything including that "Jabari" is really a young child he kidnapped from a skateboard park.
Ad blocker interference detected!
Wikia is a free-to-use site that makes money from advertising. We have a modified experience for viewers using ad blockers

Wikia is not accessible if you've made further modifications. Remove the custom ad blocker rule(s) and the page will load as expected.