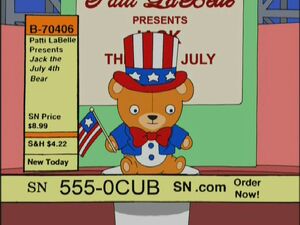 Jack the 4th of July Bear is one of Stan's "Cele-Bear-tions" in "American Dream Factory".
Stan hires an extended family of illegal Mexican immigrants to make the bears in time for the 4th of July.
While on Patti LaBelle's home shopping show, Stan and Patti try to encourage a handicapped boy Oscar to walk by holding Jack just out of Oscar's reach. When he falls out of his wheelchair, Patti makes it into a near miracle anyways.
To help Stan's illegals escape from the INS, Stan and Hayley throw the bears into the crowd at the Langley 4th of July Festival, blocking the INS agents from being able to move in to deport the family.
Jack makes a cameo in the Smith's basement in "Widowmaker".
Ad blocker interference detected!
Wikia is a free-to-use site that makes money from advertising. We have a modified experience for viewers using ad blockers

Wikia is not accessible if you've made further modifications. Remove the custom ad blocker rule(s) and the page will load as expected.