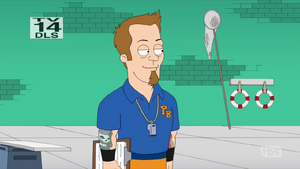 James Alan Hetfield (born August 3, 1963) is the co-founder, lead vocalist, rhythm guitarist, main songwriter and lyricist for the American heavy metal band Metallica.
James guest voices as "James Hetfield" in "The Life Aquatic With Steve Smith", originally denying his connection to the Metallica singer, but through his times as the coach of the Pearl Bailey High School water polo team, continues to drop hints as to his actual identity until Steve's near-drowning helps him get his confidence back to pursue singing again.
He was to be a panelist for the Mayoral election in "Railroaded" before the segment is cut short.