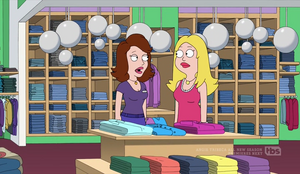 Anna Jane Tompkins (born Anna Jane Haddad, stage name Janie Haddad Tompkins) is an American actress, writer, director and comedienne, known for her work in Comedy Bang! Bang!, Regular Show and Crazy Ex-Girlfriend.
Janie provides multiple voices, including the saleswoman in "Whole Slotta Love".
Ad blocker interference detected!
Wikia is a free-to-use site that makes money from advertising. We have a modified experience for viewers using ad blockers

Wikia is not accessible if you've made further modifications. Remove the custom ad blocker rule(s) and the page will load as expected.