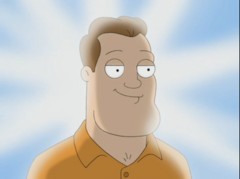 Jon Thomas Terrell (July 12, 1948 – August 24, 2017), known as Jay Thomas, was an American actor, comedian, and radio talk show host. His notable television appearances include Cheers, Love & War, and Murphy Brown. In film, he co-starred in Mr Holland's Opus and portrayed The Easter Bunny in The Santa Clause 2 and The Santa Clause 3.
Jay provides the voice of Brett Morris.
Ad blocker interference detected!
Wikia is a free-to-use site that makes money from advertising. We have a modified experience for viewers using ad blockers

Wikia is not accessible if you've made further modifications. Remove the custom ad blocker rule(s) and the page will load as expected.