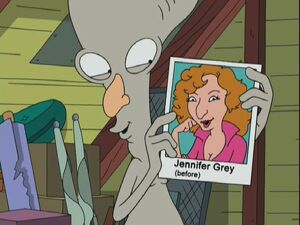 Jennifer Grey is an American actress. She is best known for playing Frances "Baby" Houseman in the hit film Dirty Dancing and Jeanie Bueller in Ferris Bueller's Day Off.
In the early 1990s, Grey underwent a rhinoplasty procedure that was so botched she required a second plastic surgery to repair the damage. The result was a face so changed that even close friends failed to recognize her, and the major change in her appearance negatively affected her career.
Roger tries out both both the original nose job and after Jennifer's second surgery when looking for a new nose in "Four Little Words".
Ad blocker interference detected!
Wikia is a free-to-use site that makes money from advertising. We have a modified experience for viewers using ad blockers

Wikia is not accessible if you've made further modifications. Remove the custom ad blocker rule(s) and the page will load as expected.