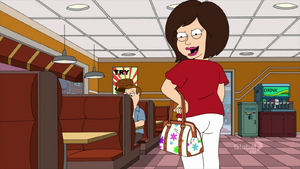 Jenny is a customer of Burger Joint that nearly leaves her purse behind in "Ricky Spanish". When Roger reminds her about the purse, she comments she'd leave her butt behind if it wasn't so big. But as she starts to leave and Roger checks it out, she turns with a laugh and notes that it is normal sized and she made everyone look before triumphantly leaving the restaurant, smacking one patron upside the head and knocking a tray of dishes from a bus boy's hands before exiting and shouting her name.
Jenny is voiced by Rose Byrne.
Ad blocker interference detected!
Wikia is a free-to-use site that makes money from advertising. We have a modified experience for viewers using ad blockers

Wikia is not accessible if you've made further modifications. Remove the custom ad blocker rule(s) and the page will load as expected.