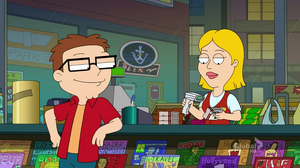 Jennifer aka "Jenny" is a clerk in a store where Steve buys cold medicine for a meth dealer in "Adventures in Hayleysitting".
In order to exchange the cold medicine for booze to get into a party, the meth dealer gives exacting instructions that he needs the receipt but after Jenny flirts with Steve, he gives her his phone number on the receipt. The angry meth dealer tracks Steve down and forces him to call Jenny. After she tells him that it is late, Steve tricks her into giving him her address and she awakes with Steve and his friends in her bedroom with the meth dealer. After she gives him the receipt, he is happy until her father blows his head off with a shotgun.
Jenny is voiced by Sarah Michelle Gellar.
Ad blocker interference detected!
Wikia is a free-to-use site that makes money from advertising. We have a modified experience for viewers using ad blockers

Wikia is not accessible if you've made further modifications. Remove the custom ad blocker rule(s) and the page will load as expected.