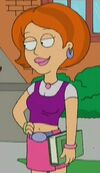 Jenny Bowen is a student at Pearl Bailey High School who becomes Steve's crush in "Failure is not a Factory-Installed Option".
Although she and her friends should hit it off, they will only go out with guys with cars. Steve and the guys bring them to the house where they propose sitting in the large number of cars that Stan has been tricked into buying. The girls are not impressed until Roger accidentally starts showing movies on the side of a nearby building and they pretend they are at the drive-in theater. When at the end of the night they express surprise that the guys didn't try to score with them, they try again the following week but just before Steve can cop a feel, the cars are repossessed and Jenny and her friends leave with the repo man.
Jenny is voiced by Jennifer Jean Snyder.
Ad blocker interference detected!
Wikia is a free-to-use site that makes money from advertising. We have a modified experience for viewers using ad blockers

Wikia is not accessible if you've made further modifications. Remove the custom ad blocker rule(s) and the page will load as expected.