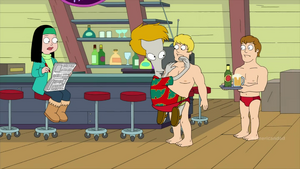 Jeremy and Mark are two members of a water polo team that Roger hires to help run his bar, Roger's Place during the holidays in "Minstrel Krampus". After rejecting Hayley's request for a job, he complains about Jeremy's speedo being too loose and tries to see if it was meant for two people. Still not satisfied after he jumps into the speedo with Jeremy, he invites Mark to join in as well.
Ad blocker interference detected!
Wikia is a free-to-use site that makes money from advertising. We have a modified experience for viewers using ad blockers

Wikia is not accessible if you've made further modifications. Remove the custom ad blocker rule(s) and the page will load as expected.