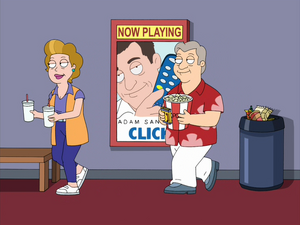 Jerry was one of Betty Smith's boyfriends until she believes he dumped her in "Oedipal Panties".
But when Roger and Francine suspect Betty is a black widow after discovering that every guy she dated has vanished, they follow her to keep her from killing Hercules. After foiling an abduction attempt, Francine discovers it is really Stan who is abducting her boyfriends to keep his mother for himself and shipping them off to an unchartered island as a flashback depicts Stan reaching through a movie poster to kidnap Jerry. In the end, Jerry appears on a island with Betty's other beaus as Stan maneuvers a sailboat to avoid them following his reconciliation with Francine and Betty's marriage to Hercules.
Ad blocker interference detected!
Wikia is a free-to-use site that makes money from advertising. We have a modified experience for viewers using ad blockers

Wikia is not accessible if you've made further modifications. Remove the custom ad blocker rule(s) and the page will load as expected.