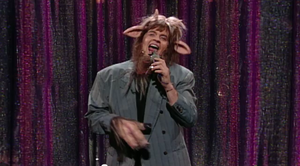 James E. "Jim" Breuer (born June 21, 1967) is an American stand-up comedian, actor and radio host. He is most noted for his time as a cast member on Saturday Night Live and starring in the stoner comedy Half Baked.
When Roger belittles Hayley for sending a goat to poor families in "I Ain't No Holodeck Boy", he says she could send Jim Breuer for half the cost. A cutaway to a picture of Jim in a comedy skit is given the voiceover that American Dad! remembers Jim Breuer.
Ad blocker interference detected!
Wikia is a free-to-use site that makes money from advertising. We have a modified experience for viewers using ad blockers

Wikia is not accessible if you've made further modifications. Remove the custom ad blocker rule(s) and the page will load as expected.