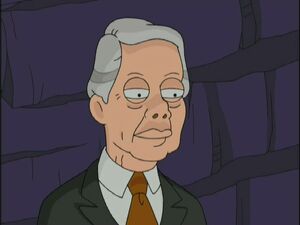 James Earl "Jimmy" Carter, Jr. (born 1924) served as the 39th President of the United States from 1977 to 1981 and was the recipient of the 2002 Nobel Peace Prize, the only U.S. President to have received the Prize after leaving office. Before he became President, Carter served two terms as a Georgia State Senator one as Governor of Georgia, from 1971 to 1975, and was a peanut farmer and naval officer.
Jimmy Carter appears in "Black Mystery Month" as the second "President Peanut", head of the "Illuminutty" and protector of the "Jar of Proof", a scroll containing the various names Abraham Lincoln tried to come up with for peanut butter before his assassination delayed a plot to give credit for the invention of peanut butter to a black man. When he convinces Stan to give him the jar he tries to destroy it by dropping it into lava flowing beneath Washington D.C. and falls in himself.
Roger leads Malia and Sasha Obama on a treasure hunt for President Carter's daughter Amy's buried dildos on the White House lawn in "An Incident at Owl Creek".
Steve mentions Jimmy Carter leaving the White house as part of his self-hypnosis in "Fartbreak Hotel". However, his facts soon become twisted by having read a history book written by Stan which blames Carter for the attempted assassination of Pope John Paul II and accuses him of devouring babies.
Ad blocker interference detected!
Wikia is a free-to-use site that makes money from advertising. We have a modified experience for viewers using ad blockers

Wikia is not accessible if you've made further modifications. Remove the custom ad blocker rule(s) and the page will load as expected.