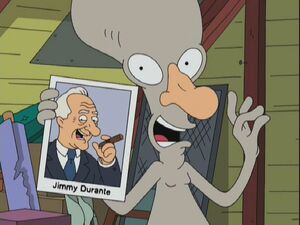 James Francis "Jimmy" Durante (February 10, 1893 – January 29, 1980) was an American singer, pianist, comedian and actor. His distinctive clipped gravelly speech, comic language butchery, jazz-influenced songs, and large nose helped make him one of America's most familiar and popular personalities of the 1920s through the 1970s. His jokes about his nose included referring to it as a "Schnozzola", and the word became his nickname.
Jimmy Durante's is one of the celebrity noses that Roger tries out in "Four Little Words".
Ad blocker interference detected!
Wikia is a free-to-use site that makes money from advertising. We have a modified experience for viewers using ad blockers

Wikia is not accessible if you've made further modifications. Remove the custom ad blocker rule(s) and the page will load as expected.