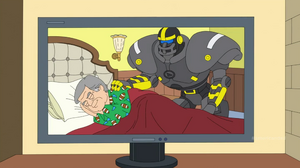 James William "Jimmy" Johnson (born July 16, 1943) is an American football broadcaster and former player, coach, and executive. As of 2010, he is an analyst for Fox NFL Sunday, the Fox network's NFL pregame show.
In "Kung Pao Turkey", Klaus tries to get Stan to stop arguing with Francine long enough to see Cleatus, the FOX football robot, waking Jimmy up four hours before the Thanksgiving football games.
Ad blocker interference detected!
Wikia is a free-to-use site that makes money from advertising. We have a modified experience for viewers using ad blockers

Wikia is not accessible if you've made further modifications. Remove the custom ad blocker rule(s) and the page will load as expected.