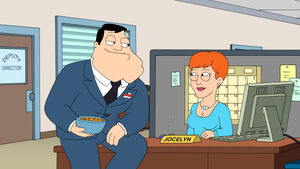 Jocelyn is a co-worker, who Stan flirts with in "Flirting With Disaster". When Francine is hired at the CIA to be a secretary, Stan is afraid of flirting with the other ladies. When Francine assures him it alright, he tells Jocelyn he can continue to bounce goldfish crackers down her bosom as he normally does and proceeds to demonstrate.
Ad blocker interference detected!
Wikia is a free-to-use site that makes money from advertising. We have a modified experience for viewers using ad blockers

Wikia is not accessible if you've made further modifications. Remove the custom ad blocker rule(s) and the page will load as expected.