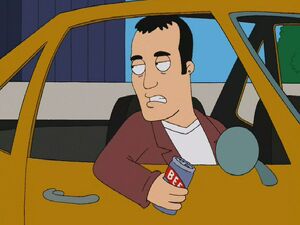 Joe Rogan is an American comedian, actor and color commentator for the Ultimate Fighting Championship.
Rogan is also known for his role as Joe Garrelli in NewsRadio and as host on the TV game/reality program Fear Factor. He co-hosted the final season of The Man Show. Rogan was also the host of CBS's Game Show in My Head.
In order to toughen up Jeff Fischer in "Bullocks To Stan", Stan proposes Jeff spend the day with Joe, which causes Jeff to finally become assertive in refusing.
Ad blocker interference detected!
Wikia is a free-to-use site that makes money from advertising. We have a modified experience for viewers using ad blockers

Wikia is not accessible if you've made further modifications. Remove the custom ad blocker rule(s) and the page will load as expected.