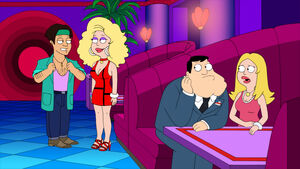 Joel Larson was Francine's last fling before she married Stan.
When Hayley suffers kidney damage and needs a transplant in "The Kidney Stays in the Picture", Francine is forced to reveal that Stan may not be Hayley's real father. Francine and Stan head back to the past in a CIA time machine to meet up with themselves and find out the truth. As they meet young Francine, they spot her heading off to make out with Joel but Stan interrupts them and Francine tells him he may have just upset history, leaving Stan to try to get her hooked up with the Joel again.
As young Francine heads off to young Stan, Stan and Francine confront their younger selves. Young Francine hesitates to cheat on Stan again without being drugged. Stan realizes that Roger gave him the formula for Ecstasy earlier and head off to get drugs for Francine. After getting the drugs, they dope Francine out of her mind and get her set up with the would-be beau.
Back in the present, Stan has a kidney from Joel and instructs the doctor to take one of his own as well and not tell him which one he used, keeping Hayley's true father a secret. The doctor questions how they got the other kidney and it's revealed that Roger broke in and took the other kidney from the unwilling Joel.
Joel is seen at the Chinese Theatre in "A Star Is Reborn".
Joel is voiced by Nathan Fillion.
Ad blocker interference detected!
Wikia is a free-to-use site that makes money from advertising. We have a modified experience for viewers using ad blockers

Wikia is not accessible if you've made further modifications. Remove the custom ad blocker rule(s) and the page will load as expected.