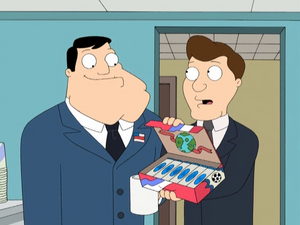 John Viener is a writer, story editor, co-producer and voice artist primarily for Family Guy. He has also lent his voice talents to The Cleveland Show and American Dad!. He is also the voice of Norm the Robot on the Disney Channel Cartoon Phineas and Ferb.
In American Dad!, he has provided assorted voices including Eric in "Stan's Night Out" and Roy Family in "Familyland".
Ad blocker interference detected!
Wikia is a free-to-use site that makes money from advertising. We have a modified experience for viewers using ad blockers

Wikia is not accessible if you've made further modifications. Remove the custom ad blocker rule(s) and the page will load as expected.