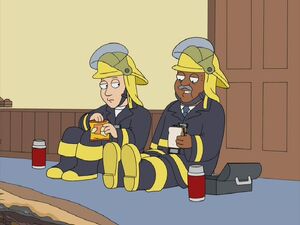 Johnny is a fireman that helped clean up the accident scene in "Stanny Slickers 2: The Legend of Ollie's Gold". The medic he is with gives a graphically illustrated story about a date and then inquires about Johnny's father's funeral. He later accompanied the mystic seer fireman from "Joint Custody" to the Smith's house in an effort to rescue Stan after the pit he dug to recover Oliver North's hidden gold collapsed.
Johnny is voiced by Chris Diamantopoulos.
Ad blocker interference detected!
Wikia is a free-to-use site that makes money from advertising. We have a modified experience for viewers using ad blockers

Wikia is not accessible if you've made further modifications. Remove the custom ad blocker rule(s) and the page will load as expected.