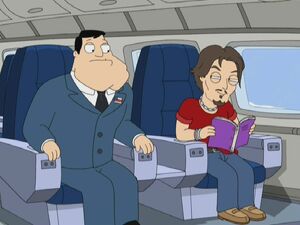 John Christopher "Johnny" Depp II is an American actor and musician known for his portrayals of offbeat, eccentric characters such as Jack Sparrow in the Pirates of the Caribbean film series, Raoul Duke in Fear and Loathing in Las Vegas, and Sam in Benny & Joon.
Depp rose to prominence in a lead role on the television series 21 Jump Street and quickly became regarded as a teen idol. He initially came to film prominence as the titular character of Edward Scissorhands, and later found box office success in roles such as Ichabod Crane in Sleepy Hollow, Jack Sparrow in the Pirates of the Caribbean film series and his role as the quirky Willy Wonka in Charlie and the Chocolate Factory.
Roger pretends to take a phone call on a bar of soap painted black from Johnny Depp after becoming the subject of Steve's book, Roger the Alien in "Star Trek".
Stan mistakenly considers Johnny Depp gay in "Lincoln Lover" and expresses surprise when corrected, due to Johnny's tiny glasses.
Depp appears in "Tearjerker" where he answers an invitation by Tearjerker (Roger) to come see about a movie role. Stan finds out that celebrities are being replaced by robots so they'll make very bad movies as part of Tearjerker's plot and finds that Depp himself is replaced. Stan destroys the robot by making it ingest milk.
Ad blocker interference detected!
Wikia is a free-to-use site that makes money from advertising. We have a modified experience for viewers using ad blockers

Wikia is not accessible if you've made further modifications. Remove the custom ad blocker rule(s) and the page will load as expected.