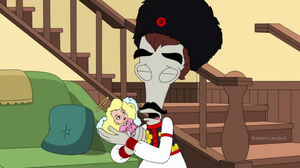 JonBenét Patricia Ramsey (August 6, 1990 – December 25, 1996) was an American child beauty pageant star who was discovered murdered in her home in Boulder, Colorado in 1996. The six-year-old's body was found in the basement of the family home nearly eight hours after she was reported missing. She had been struck on the head and strangled. The case, which after several grand jury hearings remains unsolved.
Following their shoplifting spree at the Langley Falls Shopping Mall in "Crotchwalkers", Steve and Francine present Roger with a limited-edition porcelain doll of JonBenét as an angel. Roger briefly takes offense at the implied insinuation that any part of JonBenét wasn't already and angel as he breaks down in tears.
Roger's persona of newscaster Genevive Vavance sends her crew out to find the next "JonBenét" story in "News Glance With Genevieve Vavance".
Ad blocker interference detected!
Wikia is a free-to-use site that makes money from advertising. We have a modified experience for viewers using ad blockers

Wikia is not accessible if you've made further modifications. Remove the custom ad blocker rule(s) and the page will load as expected.