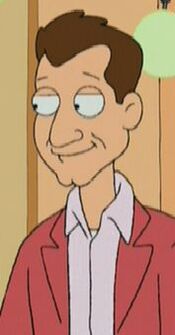 Jonathan Niven "Jon" Cryer is an American actor, screenwriter and film producer. He is the son of actress/singer Gretchen Cryer. He made his motion picture debut by starring in the 1984 romantic comedy No Small Affair, but gained greater fame by starring as "Duckie" in the John Hughes-scripted film Pretty in Pink. In 2003 he was cast to portray Alan Harper on the CBS hit comedy series Two and a Half Men, opposite Charlie Sheen, for which Cryer won a Primetime Emmy Award in 2009.
Jon provides the voice for Quacky in "It's Good to Be the Queen" and the desk clerk at the Chimdale Resort and Spa in "Chimdale".
Ad blocker interference detected!
Wikia is a free-to-use site that makes money from advertising. We have a modified experience for viewers using ad blockers

Wikia is not accessible if you've made further modifications. Remove the custom ad blocker rule(s) and the page will load as expected.