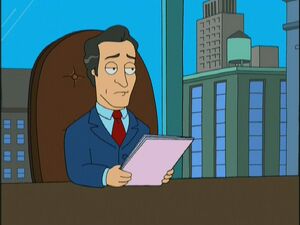 Jon Stewart (born Jonathan Stuart Leibowitz; November 28, 1962) is an American political satirist, writer, television host, actor, media critic and stand-up comedian. He is best known as the host of The Daily Show, a satirical news program airing on Comedy Central.
Jon appears and voices himself in "Irregarding Steve" when Steve tries to pitch a comedy called Quantum Rape.
Hayley intendeds to send compromising pictures of George Bush to Jon Stewart in "Bush Comes to Dinner".
Jon Stewart appears as one of the celebrity robots in "Tearjerker" and at the wedding of Max and Gina in "Max Jets".
Ad blocker interference detected!
Wikia is a free-to-use site that makes money from advertising. We have a modified experience for viewers using ad blockers

Wikia is not accessible if you've made further modifications. Remove the custom ad blocker rule(s) and the page will load as expected.