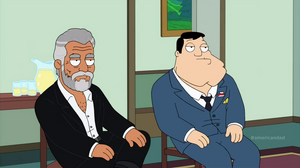 Jonathan Goldsmith (born September 26, 1938) is an American actor. He is best known for appearing in television commercials for Dos Equis beer, beginning in 2007, as the character The Most Interesting Man in the World.
In "She Swill Survive", he appears in rehab with Hayley and Stan where he notes that he doesn't always drink, but when he does, he drinks to excess.
Ad blocker interference detected!
Wikia is a free-to-use site that makes money from advertising. We have a modified experience for viewers using ad blockers

Wikia is not accessible if you've made further modifications. Remove the custom ad blocker rule(s) and the page will load as expected.