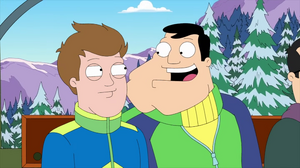 Jonathan William Moseley, better known as Jonny Moseley (born August 27, 1975), is the first Puerto Rican to become a member of the U.S. Ski Team. He won a gold medal in the 1998 Olympics. Among the honors and recognitions which Moseley has received is a parade in his honor in which San Francisco Mayor Willie Brown declared a "Jonny Moseley Day" and handed him the "key" to the city. He was named "Sportsman of the Year" (1998) by the U.S. Olympic Committee and has been featured on the covers of Freeskier and Rolling Stone magazines.
Moseley voices himself in "Da Flippity Flop" when Shaun White gets tired of waiting for the group chairs at Jump City! and wants Mosley to join him in the single riders line, Mosley has some reservations, noting he always ends up with a weirdo. While he ends up with Stan, occupied by Klaus' personality, Shaun ends up with Stan in Klaus' decaying human body. After Shaun acknowledges that Mosley was right, Mosley flips him the bird.
Ad blocker interference detected!
Wikia is a free-to-use site that makes money from advertising. We have a modified experience for viewers using ad blockers

Wikia is not accessible if you've made further modifications. Remove the custom ad blocker rule(s) and the page will load as expected.