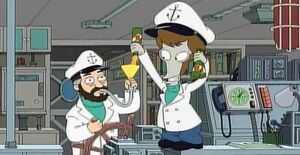 Joseph Jeffrey Hazelwood (born September 24, 1946) is an American sailor. He was the captain of the Exxon Valdez during its 1989 oil spill. He was accused of being drunk at the time of the accident, though at trial he was cleared of this charge.
Roger's life flashes before his eyes when he drunkenly wanders into the path of an oncoming bus in "You Debt Your Life". Roger has a flashback of pouring booze into a funnel for Captain Hazelwood.
Ad blocker interference detected!
Wikia is a free-to-use site that makes money from advertising. We have a modified experience for viewers using ad blockers

Wikia is not accessible if you've made further modifications. Remove the custom ad blocker rule(s) and the page will load as expected.