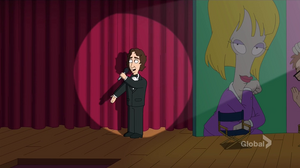 Joshua Winslow "Josh" Groban is an American singer-songwriter, pianist, percussionist, actor, comedian, and producer who has sold close to 20 million albums in the United States.
He provides assorted voices, including the whiny parishioner in "Deacon Stan, Jesus Man" and provides his own voice in "News Glance With Genevieve Vavance" as he sings at Steve's "Homecoming Spectacular" presented by Roger as Genevive Vavance.
Ad blocker interference detected!
Wikia is a free-to-use site that makes money from advertising. We have a modified experience for viewers using ad blockers

Wikia is not accessible if you've made further modifications. Remove the custom ad blocker rule(s) and the page will load as expected.