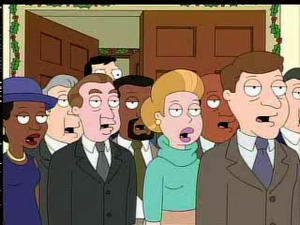 Joy to the World is a well-known Christmas carol sung by the congregation of the First Episcopalian Church when the Smith's arrive for Christmas morning services in "Rapture's Delight".
Lyrics
Joy to the world! the Lord is come
Stan: Damn. No seats
Let earth receive her King
Stan: I'm beset by phony Christians
Ad blocker interference detected!
Wikia is a free-to-use site that makes money from advertising. We have a modified experience for viewers using ad blockers

Wikia is not accessible if you've made further modifications. Remove the custom ad blocker rule(s) and the page will load as expected.