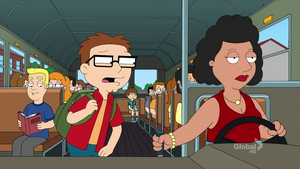 Judy is Steve Smith's bus driver to Pearl Bailey High School.
In "The Scarlett Getter", Steve runs late but manages to catch the bus, thanking Judy. She doesn't respond but shuts the bus door and drives forward.
Ad blocker interference detected!
Wikia is a free-to-use site that makes money from advertising. We have a modified experience for viewers using ad blockers

Wikia is not accessible if you've made further modifications. Remove the custom ad blocker rule(s) and the page will load as expected.