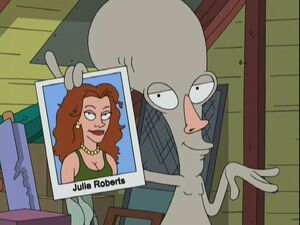 Julia Fiona Roberts is an American actress. She is known for starring in the romantic comedy Pretty Woman opposite Richard Gere. After receiving Academy Award nominations for Steel Magnolias in 1990 and Pretty Woman in 1991, she won the Academy Award for Best Actress in 2001 for her performance in Erin Brockovich. Her films also include My Best Friend's Wedding, Mystic Pizza, Notting Hill, Runaway Bride, Valentine's Day and crime films such as The Pelican Brief and Ocean's Eleven and Twelve.
Stan backs into the television during My Best Friend's Wedding with Julia in "Iced, Iced Babies".
Julia Roberts' is one of the celebrity noses that Roger tries out in "Four Little Words".
Tchochkie Schmear, played by Klaus in "Tearjerker", appears with Julia during Stan's briefing with "B". (Avery Bullock)
The title of "Julia Rogerts" parodies the actress' name.
Ad blocker interference detected!
Wikia is a free-to-use site that makes money from advertising. We have a modified experience for viewers using ad blockers

Wikia is not accessible if you've made further modifications. Remove the custom ad blocker rule(s) and the page will load as expected.