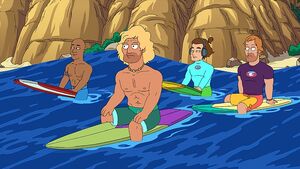 Kai is the surf king of Langley Falls. He is named after the Hawaiian island of Maui and has six kids in three countries.
When Stan is sent to infiltrate the local surfers in "Stan Smith as Keanu Reeves as Stanny Utah in Point Breakers", Kai teaches him how to relax though surfing. Stan is later told about a wave that can run from Florida to the center of the Atlantic ocean and when they return to shore, Kai's friends Gornie, Sam & Taylor confirm that the very wave is on the way.
When Avery Bullock recalls Stan from his infiltration, Stan decides he would rather stay and surf and poses as Kai and his friends to rob a bank to stay on the case. Bullock puts his foot down on Stan bringing them in as he takes off to surf in Florida. There, he discovers the CIA have followed them and he helps them escape. He reveals his cover and confesses that he framed the guys and presents his concerns that they could get captured. They take the news in a relaxed manner and sleep through the night. In the morning, Stan finds that he has been left behind so the guys could catch the wave. He arrives in time to find the CIA preparing to attack and steps in the middle and tells what he has done. Bullock still launches the attack, but his rocket sets off the wave and Kai and his friends get away.
Kai is voiced by Taylor Jensen.
Ad blocker interference detected!
Wikia is a free-to-use site that makes money from advertising. We have a modified experience for viewers using ad blockers

Wikia is not accessible if you've made further modifications. Remove the custom ad blocker rule(s) and the page will load as expected.