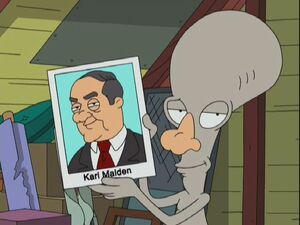 Karl Malden (March 22, 1912 – July 1, 2009) was an American actor. In a career that spanned more than seven decades, he featured in classic Marlon Brando films such as A Streetcar Named Desire, On the Waterfront and One-Eyed Jacks. Among other notable film roles were in Baby Doll, How the West Was Won and as General Omar Bradley in Patton. During the 1980s he was spokesman for American Express, reminding cardholders "Don't leave home without it".
Karl Malden's is one of the celebrity noses that Roger tries out in "Four Little Words".
Ad blocker interference detected!
Wikia is a free-to-use site that makes money from advertising. We have a modified experience for viewers using ad blockers

Wikia is not accessible if you've made further modifications. Remove the custom ad blocker rule(s) and the page will load as expected.