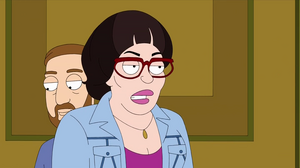 Kathy Bates (born June 28, 1948) is an American actress and director. After several small roles in film and television, Bates rose to prominence with her performance in Misery, for which she won both the Academy Award for Best Actress and a Golden Globe. She followed this with major roles in Fried Green Tomatoes and Dolores Claiborne.
Kathy provides the voice of D.O. Rothy in "Manhattan Magical Murder Mystery Tour".
Ad blocker interference detected!
Wikia is a free-to-use site that makes money from advertising. We have a modified experience for viewers using ad blockers

Wikia is not accessible if you've made further modifications. Remove the custom ad blocker rule(s) and the page will load as expected.