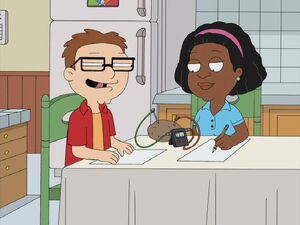 Katie is Steve's science lab partner.
In "Office Spaceman", Francine takes objection to Katie's presence in the house and asks her to leave making Steve and Hayley believe that Francine is being bigoted against Katie's race. In revenge, they invite several of Hayley's African-American classmates from Groff Community College and are surprised to find Francine accepting of them. It turns out that Francine objected to Katie's being left handed. Francine was taught by the nuns in her orphanage that being left handed was a sign of the devil.
Raven-Symoné provided the voice of Katie.
Ad blocker interference detected!
Wikia is a free-to-use site that makes money from advertising. We have a modified experience for viewers using ad blockers

Wikia is not accessible if you've made further modifications. Remove the custom ad blocker rule(s) and the page will load as expected.