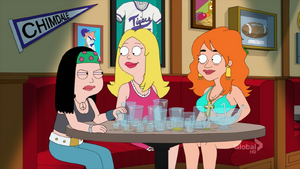 Kelly Wilk is an old party-girl friend of Francine's that she introduces to Hayley in "The Kidney Stays in the Picture".
When Hayley attempts to show Francine how to look up people on the computer, Francine mentions her old friend Kelly. Stan forbids Hayley to look up Kelly, citing her reputation for making people drink so much their kidneys shut down. Hayley looks her up anyways and the three have a girls night out. Despite Hayley being under-age, Kelly encourages her to drink with her and Francine. Desperate to keep up with Kelly, Hayley manages to drink herself sick and ends up in the hospital with kidney damage.
Kelly has a tattoo on her lower stomach that reads "Eat out more often." and had previously killed one of Francine's kidneys during a tequila pounding contest.
Kelly is voiced by Kathy Griffin.
Ad blocker interference detected!
Wikia is a free-to-use site that makes money from advertising. We have a modified experience for viewers using ad blockers

Wikia is not accessible if you've made further modifications. Remove the custom ad blocker rule(s) and the page will load as expected.