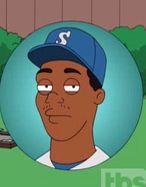 George Kenneth "Ken" Griffey Jr. (born November 21, 1969) is an American former professional baseball outfielder who played 22 years in Major League Baseball (MLB), spending most of his career with the Seattle Mariners and Cincinnati Reds, along with a short stint with the Chicago White Sox. Griffy was pronounced a 13-time All-Star, and struck 630 home runs in his career. Griffey also won 10 Gold Glove Awards in center field.
While playing a treasure hunt game with a young Steve in "Mine Struggle", Stan buries a pack of baseball cards in a box for Steve to find, although he is more distracted by the rocks in the dirt pile. When Steve opens the pack, he finds it is full of Ken Griffey, Jr. rookie baseball cards, which Stan immediately takes away, swapping him the mineral rights on the Smith property so he may play with his rocks and Stan can secure the valuable cards. Years later however, they find what they believe to be a large salt deposit on the property and Steve is pressured to sell the rights to the Gordon Salt Company. Stan is still satisfied with his baseball cards, until he learns that Roger has destroyed them by placing them in the spokes of a bicycle.
When the property is revealed to have a surprise owner later in the episode, Griffey is listed among the candidates.